The History of St Andrew's Church, Dacre
The church has a fascinating history and welcomes many visitors all year round. The Visitors' Book records the comments of people who have travelled from all over the world and enjoyed the history, the architecture and most of all the special tranquility of the church.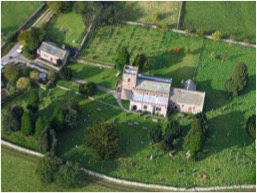 The first recorded reference to Dacre occurs in The Venerable Bede's Ecclesiastical History of AD 731 in the context of the miracles attributed to St Cuthbert.   A lock of Cuthbert's hair was a relic at the monastery of Dacre when a young monk had a painful tumour on his eye.   After handling the relic the tumour was gone within hours, and the monk was sent to Jarrow for the miracle to be recorded.
In William of Malmesbury's 12th century History of the Kings of England, Constantine, King of the Scots, and Owen, King of Cumbria, came to "a place called Dacor" to pay homage to the English king, Athelstan, and accept him as their overlord in AD934.
Archaeological evidence from the excavations in 1929 and 1982-84 supports the view that the present Norman church is built of the site of the monastery. Pre-10th century coffins, a Viking coin and other pre-Norman artefacts have been discovered.   The Saxon drain which was excavated was found to have been constructed with stones which were probably from a Roman bridge.
The present Norman church survived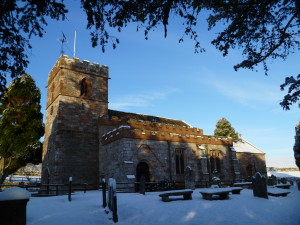 the turbulent border changes when the area was sometimes part of Scotland and sometimes part of England. The earliest known vicar was Nicholas of Appleby who vacated the living in 1296. Various additions were made to the church in the 13th and 14th centuries, and from then on it remained unaltered until the 18th and 19th century when extensive restorations took place.
The church continues the traditions of Christian worship to this day, with a service every Sunday morning.