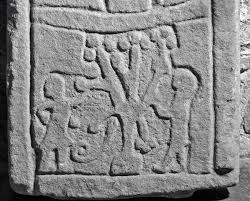 Visitors should not miss the large fragments of two Viking cross-shafts, one of which is believed to date back to the 9th century. The larger stone was discovered amongst the rubble when the east wall was being restored in 1875 and is thought to be a thousand years old. The scene at the bottom of this shaft shows Adam and Eve. Whilst Adam is without clothes, Eve wears a very fetching skirt!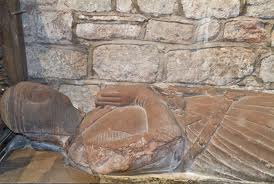 The tower houses three bells: the tenor bell dedicated to St Bartholomew, the middle bell, known as The Blessed Mary Bell and the treble bell which bears an interesting inscription in Latin. Another mediaeval feature of the church is the effigy to the crusader knight in the sanctuary. The ancient font nearby is probably original to the church.
The Hasell family of Dalemain has been linked to the church since the time of Edward Hasell, the steward of Lady Anne Clifford. Her gift of an Elizabethan silver gilt communion cup to Edward Hasell was later presented to Dacre church and is now in the Treasury at Carlisle Cathedral. Lady Anne gave a remarkable lock dated 1671 which is still in situ on the south aisle door. Many memorials to the Hasell family are to be found in the church, including the Whistler window, dedicated in 1994 to the memory of Sylvia Mary McCosh.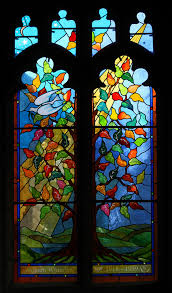 There are many fine stained glass windows the most recent of which is dedicated to Viscount Whitelaw, who had a distinguished career in politics, most memorably as Deputy Prime Minister in Margaret Thatcher's government. The church continues to thrive, and recent improvements have included a new pipe organ and console, a kitchen area and a toilet which is available during services and events.
More information is available in the guide book on sale at the back of the church.