We have enjoyed a wonderful Christmas at Dacre with a number of special highlights.
At the end of November over 900 knitted angels were displayed in church.  For several months members of St Andrew's and Stainton Methodist Churches, as well as other friends, had been busy making angel decorations.  Each household received an angel with the notice of Christmas events and services at the two churches.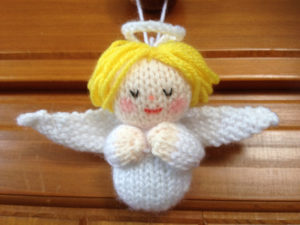 .
A joint carol service with Stainton Methodist Church was held on 17 December at 10.30am in the Methodist church in Stainton.
A stunning Christingle service on Christmas Eve in Dacre was enjoyed by over 250 people.   We saw the joy of Christmas in the faces of children and adults alike as two Maries, eleven Gabriels, assorted shepherds and three Wise Men, a rabbit and many others enacted the story of the Nativity.  The service was led by The Revd. Tim Cooke, who was an inspirational leader.
The Christmas Morning service was held at the later time of 10am in Dacre by the Revd Peter Clement, who will be with us again at Easter time.
We do hope that families and friends who enjoyed the Christmas services will join us again for special Palm Sunday and Easter Day services.  As usual there will be a walk from Stainton Green to Dacre on Good Friday, calling in Dalemain for refreshments, and concluding with a short service in St Andrew's church
A monthly prayer meeting is held on the second Monday of each month at Stainton Methodist church.    A group meets on Wednesday evenings at 7pm at Dalemain for Christian meditation.  For further details, please contact Jane Hasell-McCosh on 017684 86450.
Choir Practices usuallly take place in Newbiggin Village Hall each first and third Wednesday of the month at 4.30pm.  New members are always welcome.  For further details, please contact Steve (017684 83082) or admin@dacrechurch.com