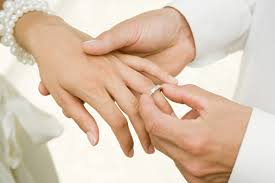 We are very pleased that you are thinking of being married at St Andrew's, Dacre.  To be married in our church you do not have to be baptized, or attend regularly.  Though, of course, a church wedding does include that vital dimension of seeking God's blessing not only on your wedding day, but throughout your married life.
For such a special occasion we offer a beautiful church in a wonderful setting, and we would love to help you plan a personal, meaningful and spiritual church wedding.  We would also love to offer you a great start to your marriage beforehand through our marriage preparation meetings with The Rural Dean or our Pastoral Assistant.
In the first instance please contact the Pastoral Assistant for Dacre, Mr. Gordon Dugmore: Tel. 0754 6082324.
The Rural Dean is the Revd David Sargent:  Tel. (01768) 863000.              revdave.sargent@outlook.com                                                                   
Information about getting married in church is available on the Church of England website http://www.yourchurchwedding.org/